Black Forest Cake
---
Serves 12 | Prep Time 25 | Cook Time 30-35
Ingredients
2 cups all-purpose flour
1-3/4 cups white sugar
1 teaspoon baking powder
3/4 teaspoon baking soda
1/4 teaspoon salt
1-1/3 cups water
1/2 cup shortening
2-1/2 teaspoons vanilla extract
2 eggs
3 ounces unsweetened chocolate, melted
1 (16.5 ounce) can pitted dark sweet cherries, drained with juice reserved
1 tablespoon cornstarch

---
Preheat oven to 350. Grease and flour 2 9" pans.
---
Combine flour, white sugar, baking powder, baking soda and salt. Add water, shortening, and 1 teaspoon vanilla. Beat with an electric mixer on low to medium speed until combined. Then beat on high speed for 2 minutes. Add eggs and melted chocolate and beat 2 minutes more. Pour batter into prepared pans.
---
---
Drain cherries reserving 2/3 cup of the liquid. In a medium sauce pan combine reserved liquid and cornstarch, add fruit. Cook over medium heat and stir until thickened and bubbly. Cook and stir for more 2 minutes. Remove from heat cover and cool without stirring.
---
Spread filling between layers. You could ice this cake, but it's pretty rich as it is. I piped whipped cream around the edge and topped with cherries.
---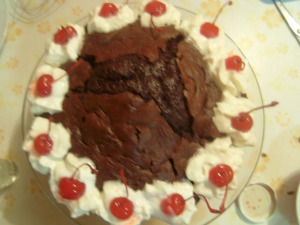 ---
Pairs Well With
---
Notes
This was cake number six in my cake year challenge. I made it on Miss America night with a bunch of my girlfriends! So so so good, and really moist.
6 Recipes
11264 Downloads
FREE