---
Brown Sugar Tea Cake
---
20
| Cook Time
33-36
Why I Love This Recipe
This was made for my best friend's fiancee's birthday, as my fourth cake for cake year. He wasn't present because he's away in med school, but we ate it in his honor. Inspiration from Bell'alimento.
---
Ingredients You'll Need
3/4 cup all-purpose flour
3/4 cup firmly packed brown sugar
1 teaspoon baking powder
1/2 teaspoon cinnamon
1/4 teaspoon nutmeg
1/8 teaspoon salt
1/3 cup water
2 large eggs

1 cup whipping cream
3 tablespoons sugar
1 teaspoon cinnamon

---
Directions
Preheat oven to 350, grease and flour an 8 x 8 pan.
---
Blend flour, brown sugar, baking powder, cinnamon, nutmeg and salt. Then add the water and eggs and beat at low till combined. Then beat at medium for 2 minutes.v Pour batter into pan and pop in the oven.
---
Bake for about 33-36 minutes (adding time for a darker pan). Cool completely and then slather in cinnamon whip cream (which you can whip up by beating your whipping cream in a cold metal bowl with sugar and cinnamon until it's soft and fluffy).
---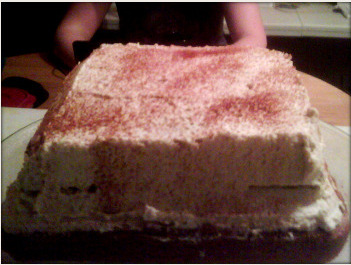 ---
Questions, Comments & Reviews
---
7 Recipes
11875 Downloads
FREE