---
Carrot Zucchini Soup With Fresh Ginger
---
Why I Love This Recipe
I got the Idea of this soup in a danish magazine and it really turned out great with my alteration!
---
Ingredients You'll Need
300g carrots (5 to 7 pieces depending on size)
200g zucchini (one fine piece)
2 tbsp olive oil/or peanut oil
1 small onion
1 walnut size bite of fresh ginger
1 1/2 tsp curry powder (use your favourite)
zest of one organic orange
1/8 tsp cumin powder
some black pepper to taste
ca 2 to 3 USA cups vegetable stock
1 tin (400g) Boroli Beans
For decoration:
1/4 of a zucchini cut in threads
some Mascarpone on top / you can also use plain yogurt or sour cream 10% fat.

---
Directions
---
cut the veggies small and fry the onion golden in the pot, add the remaining vegetables and fry til golden, then add spices. Stir and add veg.stock and drained beans.
---
Let simmer for 10 to 15 minutes
---
or til the carrots are soft cooked. Blend or puré the soup.
---
Decorate each plate with some zucchini stics and one tbsp yogurt/mascarpone/sour cream.
---
Enjoy with e.g. my walnut and sunflower seed bread with cheese.
---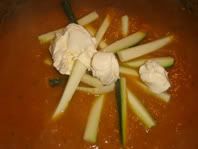 ---
Questions, Comments & Reviews
---