---
Chocolate Topped Almond Cake
---
20
| Cook Time
30-40
Why I Love This Recipe
This cake is the second in my cake year challenge. The only request this week was 'something simple and nutty'. Mission accomplished!
---
Ingredients You'll Need
3/4 cup + 2 tablespoons whole almonds
1 cup + 2 tablespoons sugar
1/4 teaspoon salt
1/2 teaspoon pure almond extract
3 large eggs
8 tablespoons unsalted butter, softened, cubed
1/3 cup all-purpose flour
1/4 teaspoon baking powder

---
Directions
Preheat to 350.
---
Grind up the almonds, sugar, salt and almond extract in your food processor, serious blender or bullet (I used my bullet).
---
Move to bowl and mix in your eggs and butter till they're very well combined. Now add in the flour and baking powder and mix till just blended.
---
Pour batter into greased and floured pan and bake for 30-40 minutes. Cool in the pan.
---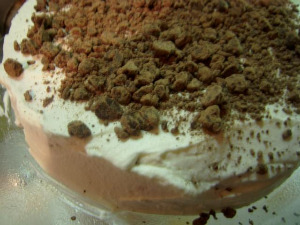 ---
Questions, Comments & Reviews
---
7 Recipes
11851 Downloads
FREE