---
Double Lemon Cake
---
20
| Cook Time
60
Why I Love This Recipe
This is the third cake I baked for cake year! So lemony and moist!!
---
Ingredients You'll Need
Cake:



1-1/2 cups white sugar
2 cups butter
4-1/2 teaspoons baking powder
3 cups all-purpose flour
4 eggs
2 cups milk
1 tablespoon vanilla extract
1 tablespoon lemon juice
1 teaspoon lemon zest


Filling:



1 package Sheriff lemon pie mix
1 egg yolk
1 tablespoon butter


Icing:

1/2 cup shortening
1/2 cup butter
1 teaspoon vanilla extract
4 cups icing sugar
2 tablespoons milk
yellow food colouring

*chopped chocolate, optional

---
Directions
Preheat oven to 400. Grease and flour three 7" pans.
---
Cream butter and sugar till light and fluffy. Add eggs one at a time, and beat well.
---
Sift the flour and baking powder together. Add to butter mixture, with 1 cup milk. Mix, adding second cup of milk with the vanilla extract, lemon juice and lemon zest.
---
Pour batter into prepped pans and bake for 1 hour. Cool completely before removing from pans.
---
Make your icing while the cakes bake! Cream the shortening and butter, then add the vanilla. Slowly add the sugar, about 1 cup at a time till mixed, then slowly add the milk. Tint yellow!
---
Prepare the lemon pie mix according to box directions. Spread between the layers and ice with your buttercream.
---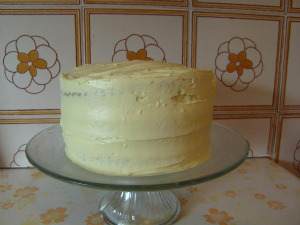 ---
Questions, Comments & Reviews
---
7 Recipes
11851 Downloads
FREE